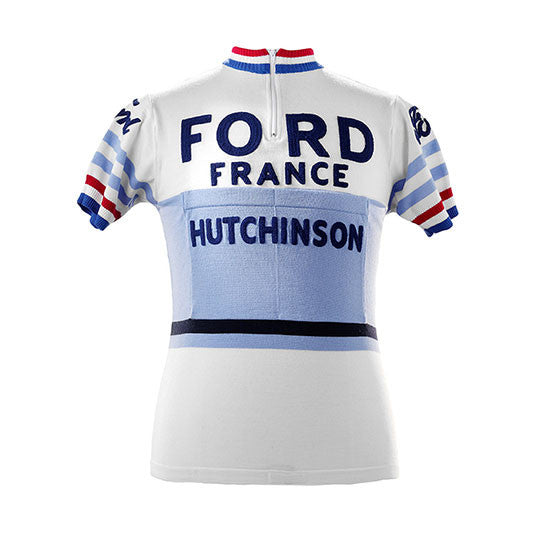 Jacques Anquetil 1966 Ford France Vintage Jersey
Jacques Anquetil 1966 Ford France Vintage Cycling Jersey.
Made from 100% extra fine Italian merino wool.
Three rear pockets. 100% Merino wool. Machine washable
The extra fine Merino wool used for the jerseys requires special attention:
Handle with love.                                                          
Machine wash cold.
Delicate wool cycle.
Use mild detergent.
Dry flat.
Do not tumble dry.
  Usually ship next day.
Jacques Anquetil was a French road racing legend and the first cyclist to win the Tour de France five times, in 1957 and from 1961 to 1964.
He stated before the 1961 Tour that he would capture the yellow jersey on day one and wear it all through the Tour, a tall order with two previous winners in the field—Charly Gaul and Federico Bahamontes—but he did it.
His victories in stage races such as the Tour were built on an exceptional ability to ride against the clock in individual time trial stages, which earned him the name "Monsieur Chrono".
European countries may add taxes depending on the local code.
| | | | | | | | | |
| --- | --- | --- | --- | --- | --- | --- | --- | --- |
| | | | | Sizing Chart | | | | |
| | SM (cm) | SM (inch) | M (cm) | M (inch) | L (cm) | L (inch) | XL (cm) | XL (inch) |
| Armpit to Armpit | 42 cm | 16.5 | 46 cm | 18 | 48 cm | 19 | 52 cm | 20.5 |
| Short Sleeve | 20 cm | 8 | 22 cm | 8.6 | 24 cm | 9.44 | 26 cm | 10.25 |
| Long Sleeve | 60 cm | 23.5 | 63 cm | 24.8 | 65 cm | 25.6 | 67 cm | 26.375 |
| Front Length | 61 cm | 24 | 67 cm | 26.3 | 71 cm | 28 | 74 cm | 29 |
| Back Length | 64 cm | 25 | 66 cm | 26 | 70 cm | 27.5 | 74 cm | 29 |