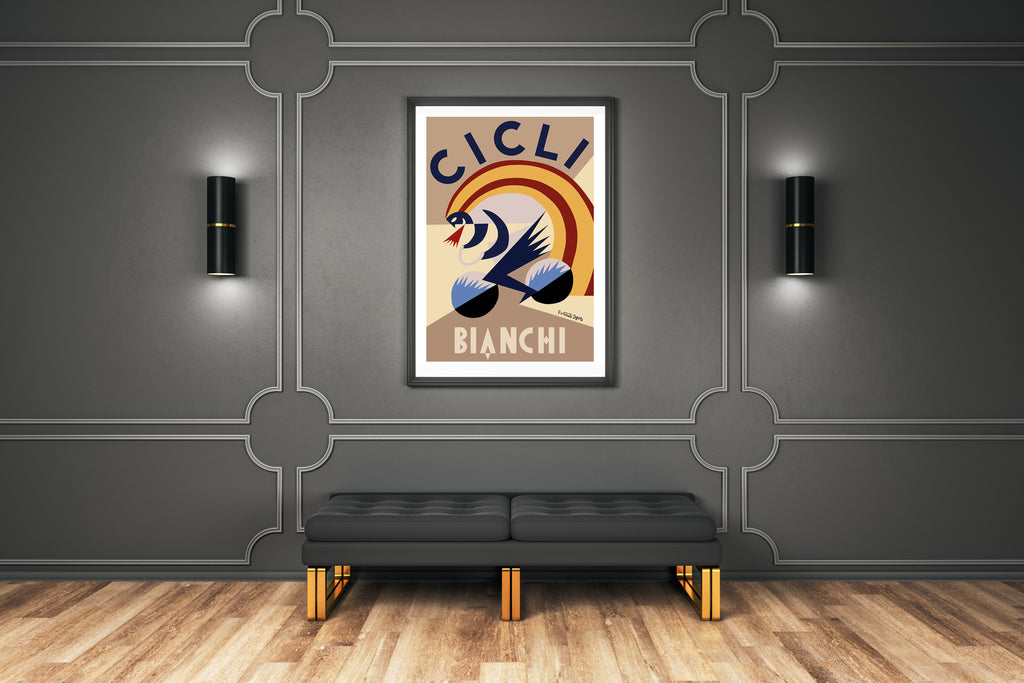 Cicli Bianchi Poster
Product Description
TITLE: Cicli Bianchi Poster
ARTIST: Fortunato Depero
CIRCA: 1924
ORIGIN: Italy
Cicli Bianchi poster designed by Fortunato Depero in 1924.
Fortunato Depero was born in Fondo (Northern Italy). He grew up in Rovereto and it was there that he first began exhibiting his work. In 1913 on a trip to Florence he read a copy of the paper Lacerba containing an article by one of the founders of the futurism movement, Filippo Tommaso Marinetti. It inspired Fortunato, and in 1914, he moved to Rome and met futurist Giacomo Balla. With Giacomo he wrote the manifesto Ricostruzione futurista in dell'universo ("Futurist Reconstruction of the Universe"). The main idea being the reconstruction of the universe by transforming and recreating all form into more a more pleasant abstract forms. 
Our Prints will not fade and are made in the USA.
Fine art giclee print on heavy acid free archival paper using 100+ year fade resistant inks.
POSTER SIZING: The three smaller size posters are printed to the exact size and will fit readily available standard sized frames. The larger sizes have the first dimension exact (30 in. x 40 in.)  The second dimension (Vertical) may be longer or shorter depending on the proportion of the original poster.
European countries may add taxes depending on the local code.